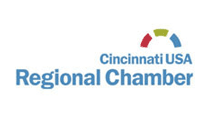 » Our Purpose: To grow our economy and community, stimulating opportunities for everyone.
» Our Mission: to capture our place as one of the world's favorite American business centers.
» Our Role: Economic development, government advocacy, festivals and events, business programs and services.
» Our Values: Leadership. Service. Teamwork
The Cincinnati USA Regional Chamber is the nation's fifth largest Chamber, representing the interests of nearly 5,000 member businesses. An award-winning membership organization, the Chamber has been recognized as national Chamber of the Year twice in the past decade. It supports members and the Cincinnati USA region in pursuit of success in today's global economy.
The Chamber provides numerous services, including business retention and attraction, programs and events, member benefits to improve members' bottom line, solutions to members' workforce challenges, government advocacy, and more to create and sustain a positive business climate for our community, including demonstrating a commitment to small business assistance and economic inclusion.
The Chamber's talented, professional staff of 75 people works with thousands of engaged member companies, volunteers and partners in an effort to create and sustain a dynamic Cincinnati USA, a region of 15 counties located in three states. The Chamber's member businesses and organizations represent approximately 310,000 employees throughout southwestern Ohio, northern Kentucky and southeastern Indiana.